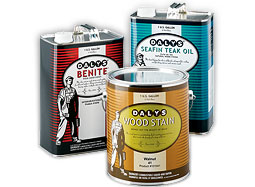 Daly's manufactures a full line of wood finishing products. Our chemist keeps our formulations up-to-date and uses only the highest quality raw materials in our products.
PLEASE NOTE:
All orders placed through our online store ship via
FedEx
. If you need faster shipping, or if you live in
Alaska
or
Hawaii
, please call us at 1-800-735-7019 for a price quote.
View MSDS and Spec Sheet documents >>
Explore our Online Store for detailed product information:

Conditioners, Sealers & Finishes
Benite, Ship'n Shore Sealer, BenMatte, CrystalFin, ProFin, and GlosThane/SatinThane

Stains
Daly's Wood Stain, Deck Stain, Semi-transparent Exterior Stains

Floor Finishes & Deck Care Products
CrystalFin for Floors, FloorFin, Gym Seal, Wood Brightener and Deck & House Cleaner

Marine Finishes
Old Sailor, Teak Oil, Aqua Spar, Super Spar, and Filler Stain

Cleaners, Bleaches & Miscellaneous Products
Kitchen Wood Treatment, Paste Wood Filler, LemOil, Log Oil, A&B Bleach, Oxalic Acid
Catalog request? Questions?
info@dalyswoodfinishes.com
1-800-727-9694 or 206-244-8844